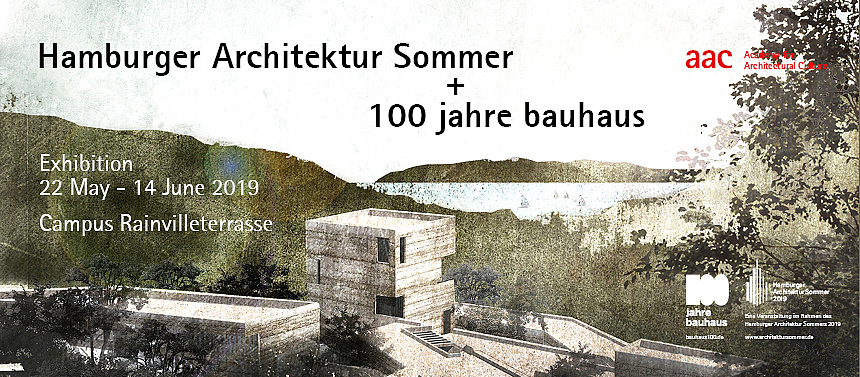 European Art School
Designs for a reinterpretation of the Seaside Bauhaus
As part of the "100 jahre bauhaus" and the "Hamburger Architektur Sommer", aac is organising an exhibition and lecture:

Introductory lecture by
Prof. Dr. Ita Heinze-Greenberg (ETH Zurich):
23 May 2019, 7 pm

aac-exhibition period: 22 May - 14 June 2019
Mon-Fri from 10 am - 5 pm (closed on 30 and 31 May and on 10 June)

Guided tours of the exhibition will be offered on Saturday, 25 May 2019 at 11 am, 12 am, midday, 2 pm and 3 pm.

Campus Rainvilleterrasse, ground floor
Rainvilleterrasse 4, 22765 Hamburg

Back then vs. Today: In the 1930s, Hendricus Theodorus Wijdeveld and Eric Mendelsohn developed the idea of a European Mediterranean academy in Cavalière, Côte d'Azur. This idea was translated into contemporary designs in an aac workshop.

Similar to the Bauhaus in Dessau, the "Académie Européenne Méditerranée" was to teach various disciplines from the fields of architecture, art, music, film and dance. Among others, Amédée Ozenfant, Albert Einstein, Paul Valéry, Frank Lloyd Wright and Igor Stravinsky were involved.
This ambitious project failed for various reasons, but the conception and philosophy behind it are still relevant today. Why Europe or a European Academy? The European idea or the questioning of it has become one of the most important political themes of our time. Brexit, Grexit and the emergence of anti-European positions in international politics seem today to contradict the European idea.

With designs for a new interpretation of the "Académie Européenne Méditerranée" originally dreamed of in the 1930s, aac would like to celebrate the belief in a common Europe and the solidarity of a common tradition and to accompany the traditional vision with images of contemporary architectural designs. The task thus included the conceptual and architectural confrontation with the European idea, taking into account the main themes of encounter, communication, exchange of ideas and teaching.

Prof. Dr. Ita Heinze-Greenberg from ETH Zurich talks about the historical idea of the European Mediterranean Academy in the context of the aac exhibition on the same topic. The workshop results will then be presented and the exhibition opened with a vernissage.

The Academy for Architectural Culture (aac) is a private and non-profit organisation based at Rainvilleterrasse in Hamburg, which was founded by the architects von Gerkan, Marg and Partners (gmp). With international workshops, research studies and courses, aac is dedicated year-round to finding solutions to relevant architectural questions and to the further education of young architects from different cultural backgrounds.